Mr. Long's 7th Grade P.E.

Track & Field
This unit we will participate in some events that include sprints, medium and long distance races, and field activities. It will prepare the class for the upcoming fitness testing and get everyone into prime condition for the spring.
Also during this we will try to take advantage of the rainy season to work on our game design unit. Students will be working in groups to design their own games. When they are done each group will present their game and the winner or "best game design" will be played by the class.
Upcoming: Advanced Team Building Unit, Spring Fitness Testing, & Archery!
DUE THURSDAY JANUARY 25
EXERCISE & FITNESS BROCHURE
Link below for reference! (fitness slides)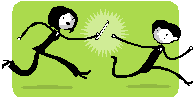 TEAMWORK!
Quote:

I suppose leadership at one time meant muscles; but today it means getting along with people.

- Mohandas Ghandi