Mr. Long's 6th Grade P.E.
Tumbling - Practicing skills and creating routines week of 5/15 - 19
Routines begin 5/22
Frisbee Golf due 5/19 instructions and scorecard if needed.
Mile Graph due 5/24 (Wednesday)
Remember to work hard and be nice to one another!
Remember the calendar is subject to change due to weather, facilities, or general class progress.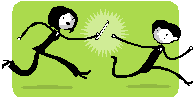 TEAMWORK!
Quote:

I suppose leadership at one time meant muscles; but today it means getting along with people.

- Mohandas Ghandi